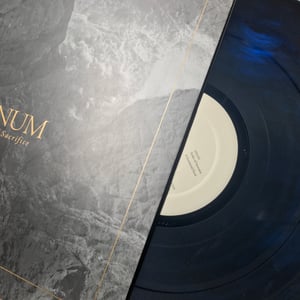 $

15.00 - On Sale
Repressed on blue with black "smoke". Limited to 216!
At long last, we are proud to present Realm of Sacrifice, the massive debut by Vanum, on LP format. Conceived over the course of years, founding members K. Morgan (Ash Borer) and M. Rekevics (Fell Voices) forged this new entity in the fall of 2014. After years of close musical alignment, including multiple split releases and tours together in other acts, this release marks the first time that the two have committed a collaborative effort to tape.
While unique in its aura, Realm of Sacrifice draws a heavier influence from the old tradition of black metal than other related projects. Rather than simply combining the oppressive drone of Fell Voices with the harrowing desolation of Ash Borer, Vanum showcases a more sharply focussed and stirring form of black metal. Intense, caustic tremolo washes effortlessly weave in and out of cold and somber mid-tempo sections, masterfully held together by powerful and creative drumming and an extremely potent vocal performance. Through a deep understanding of their craft as well as an attention to detail resulting from years of dissecting the black metal genre, Vanum has produced one of the genre's more striking releases in recent memory, and one that holds up against any of the founding members' previous outputs.
To capture this offering, great care was taken on the production by Andrew Oswald, who gifted this release with an impressive and unique atmosphere. To emphasize the power of this release, no detail has been spared in presentation. Audiophile grade 180 gram vinyl is housed in 24-pt. Stoughton jackets alongside a pantone printed lyric sheet and a specially curated 16-page tabloid sized booklet featuring the stunning large format photography of NYC-based Corey Riddell, who produced all of the album's photographic imagery.
This is PV-XVII.